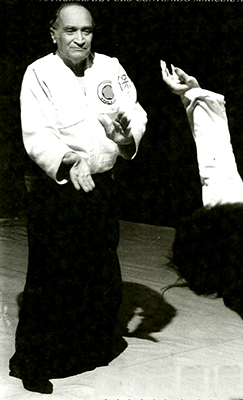 The aikido in Argentina has lost a great teacher.With sadness we announce the passing of Jose S. Guajardo Sensei last Saturday, April 27th., 2014.
Born in Buenos Aires in 1932, Guajardo Sensei joined the way of aikido in 1969, receiving his Shodan black belt in 1978, being one of the odest students of yhis art in the country.
Currently wearing the Godan degree, 5th. Dan. This was awarded by Mitsugi Saotome Sensei in the yar 2002.
In 1982, with other instructors, he founded the Kobukan Dojo Argentina, and in 1986 along with his direct students Enrique and Daniel Mu˝iz, always with him, begin the hard task to take fordward this dojo after a difficult period.
Today it's a reality that continues to spread aikido in Argentina, based in the city of Buenos Aires, and dojos affiliated in other cities of the country under the name of Kobukan Dojo Association.

Shimbukan Argentina laments this irreparable loss and send condolences to his family and students.