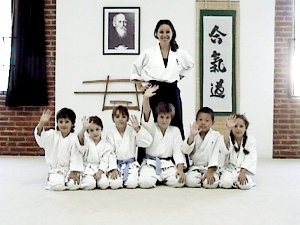 The Evaluation Class for Graduations in Aikido for Children, corresponding to the year 2005, was imparted at the Olivos Dojo.
This class was in charge of Professor Paola De Luca, Children's Instructor, and Professor Ricardo López, Director Executive of Shimbukan Argentina.
The balance was very positive, as result the following students were graduated:
Natalia Vitale, Iván Drag, Julieta Sánchez, Julián Yamamoto, Damián Sanmiguel and Camila Drag.
Our congratulations.