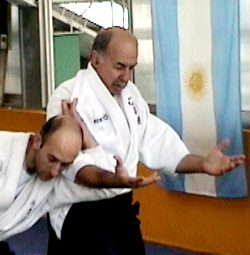 Our Organization carry out a new Winter´s Seminar in the city of San Carlos de Bariloche on August 13th., 14th. and 15th. of 2004.
Professor Ricardo Lopez was in charge of this event as well as examiner of students testing for new grades, under the guidance of Prof. Mario Rios, head instructor of Aiki Dojo Bariloche.
During those 3 days of vigorous work out was remarkable the enthusiasm displayed by the participants.
In this ocassion was important the presence of some children belonging to the Tsuchi No Ki Dojo of Epuyen, small Community located roughly 100 kilometers of Bariloche City.
Transportation was provided by the local goverment authorities for which we are deeply moved by this token gesture.
This trip also was a sightseeing of the city for the children for the first time. The tour was in company of Daniel Pagnucco, in charge of his teachings, Prof. Mario Rios and Prof. Ricardo López.
It was really an enchanting experience of fraternization and fiendship.