A new
Regional Seminar of our Organization in San Carlos de Bariloche was performed on October 16th. and 17th., 2009.

The occasion was marked by the 10 years of technical assistance of the Professor Ricardo Lopez to the Aiki Dojo Bariloche, the 15 years of continuous teaching of Professor Mario Rios in the city, and his recently promotion to the 4º dan grade of Aikido.

In the end an evaluation was proceed for the Students of this dojo.
The seminar had days of hard work in a frame of camaraderie and friendship.

We also remark the presence of Daniel Pagnucco, in charge of the Tsuchi No Ki Dojo, of Epuyen, Paola De Luca and Martin Rodriguez, Instructors at the Olivos Dojo of Buenos Aires, and Eduardo Rueda, also student of this dojo, who traveled especially for the event.

Between the presents also were students of other schools of Aikido of the region.

Shimbukan Argentina congratulate the Professor Mario Rios for the dedication and remarkable achievements during these years.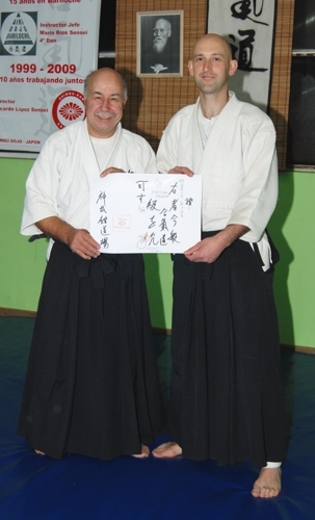 R. Lopez Sensei and M. Rios Sensei