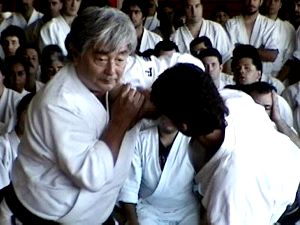 On November 19th., 20th. and 2lst., Yoshimitsu Yamada
Sensei, 8th. Dan, direct disciple of Morehei Ueshiba O'Sensei, founder of Aikido, carry out as he did in the last 12th. years a International Seminar of Aikido, which took place in the hall of CENARD ( a National Centre for high performance athletes ) in Bs. As., Argentina.
The concurrence was enormous, to received the teaching of this prominent Sensei.
Aikidoist from different countries show up, Elson Olea from Chile, Ricardo Leite, Severino Sales and Cristian Lopes from Brasil, just to mention some.