Yoshimitsu Yamada, 8th Dan, Shihan , dictated at Palermo Athletic Club, on November 16th, 2005, one of the three magisterial classes, which were schedule during his visit to Argentina this year.


The responsibility to its concretion was in charge of Organization Zanshin and Shimbukan Argentina, with the endorsement of Kouma Association Dojo and Seishin Organization.
Over 200 students participated and enjoy the teaching of this outstanding teacher, on a 300 square meters of tatami specially designed for this event.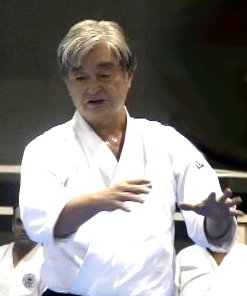 Among the presents were Prof. Miguel Morales, from Peru, and Prof. Elson Olea, from Chile.
Immediately after this remarkable event, all the participants gathering to have dinner with Yamada Sensei. Representatives of others Organization, which were invited were present,

we take this opportunity to express our complacency for theirs presence and support.